Heart of a Tiger: Dean Mancuso's passion for LSU Football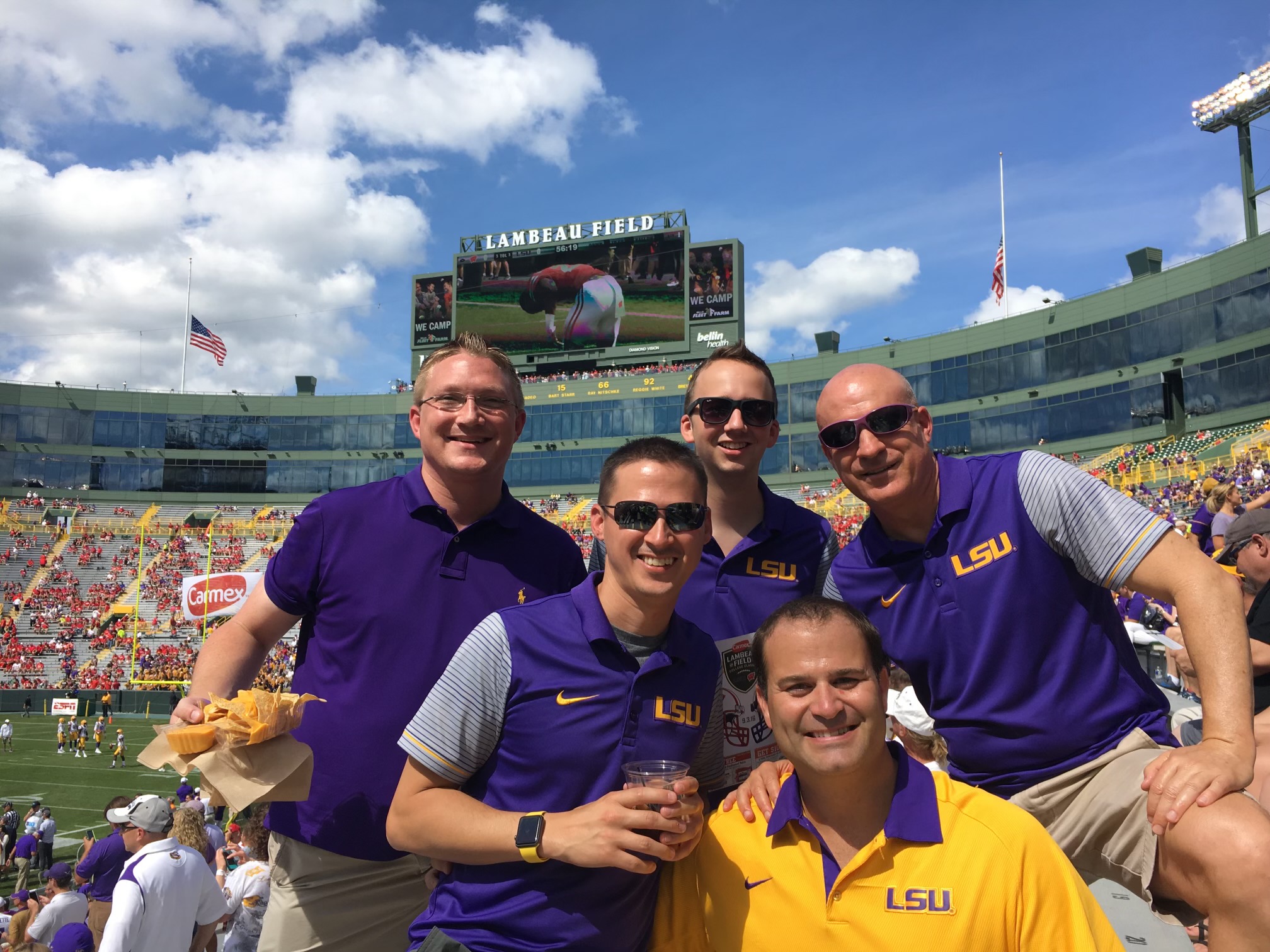 Down in the bayou of Louisiana, LSU football reigns as a supreme college football program with four national championships, two Heisman Trophy winners, and one diehard fan.
Since the late 1960s, the Tigers have had a fan who has relentlessly devoted his life to LSU football.
Dean Mancuso, 58, and a New Orleans native has an active streak of attending 420 LSU football games since 1988 to both home and away contests.
Mancuso was the lone student from the 1981 graduating class of Picayune High School to attend college at LSU.
Four months later Mancuso snuck over from his un-air-conditioned dorm to see Tiger Stadium's field being painted prior to the season opener against Alabama.
"Although we lost the game, my passion was perked and I haven't missed a home game since," Mancuso said. "I was usually one of the first ones in line at all home games and would run to get my favorite end seat across the aisle from the trumpet section of the Tiger Band. I would save eight to 10 seats for my friends whom I had reacquainted with at LSU from my childhood growing up in New Orleans."
Where it all started: 'It's in their blood'
The Mancuso's have always been fans of football. Dean has been going to games before he turned one year old.
"I got my first initiation into LSU football from my mom's cousins in White Castle, Louisiana," Dean said. "They were season ticket holders since the early 50s. They would talk about Tiger Stadium when I visited and taught me to yell LSU cheers. My parents finally took me to my first game when I was around 6 or 7 and at that point, I was hooked."
In 1975 the Mancuso's moved to Picayune, Mississippi and Dean's one stipulation being he would still be able to attend LSU one day despite being out of state. His parents promised and saved up for their son to help him realize his dream of attending LSU.
Before moving to Mississippi the love for watching football began at Behrman Stadium in New Orleans. Lois Mancuso, Dean's mother, said her son was an 'itty bitty toddler' when the family would go to games and sit next to the band.
"They loved Dean. He would stand there for the national anthem with them, and they just loved him," Lois said.
Lois, now 85-years-old still remembers her son's passion for the program since day one and said she recently was looking through old pictures. The images were of Dean's birthday cakes throughout the years and she said it was awesome to go back through those memories.
Lois said she even made Dean a cake commemorating his 300th game.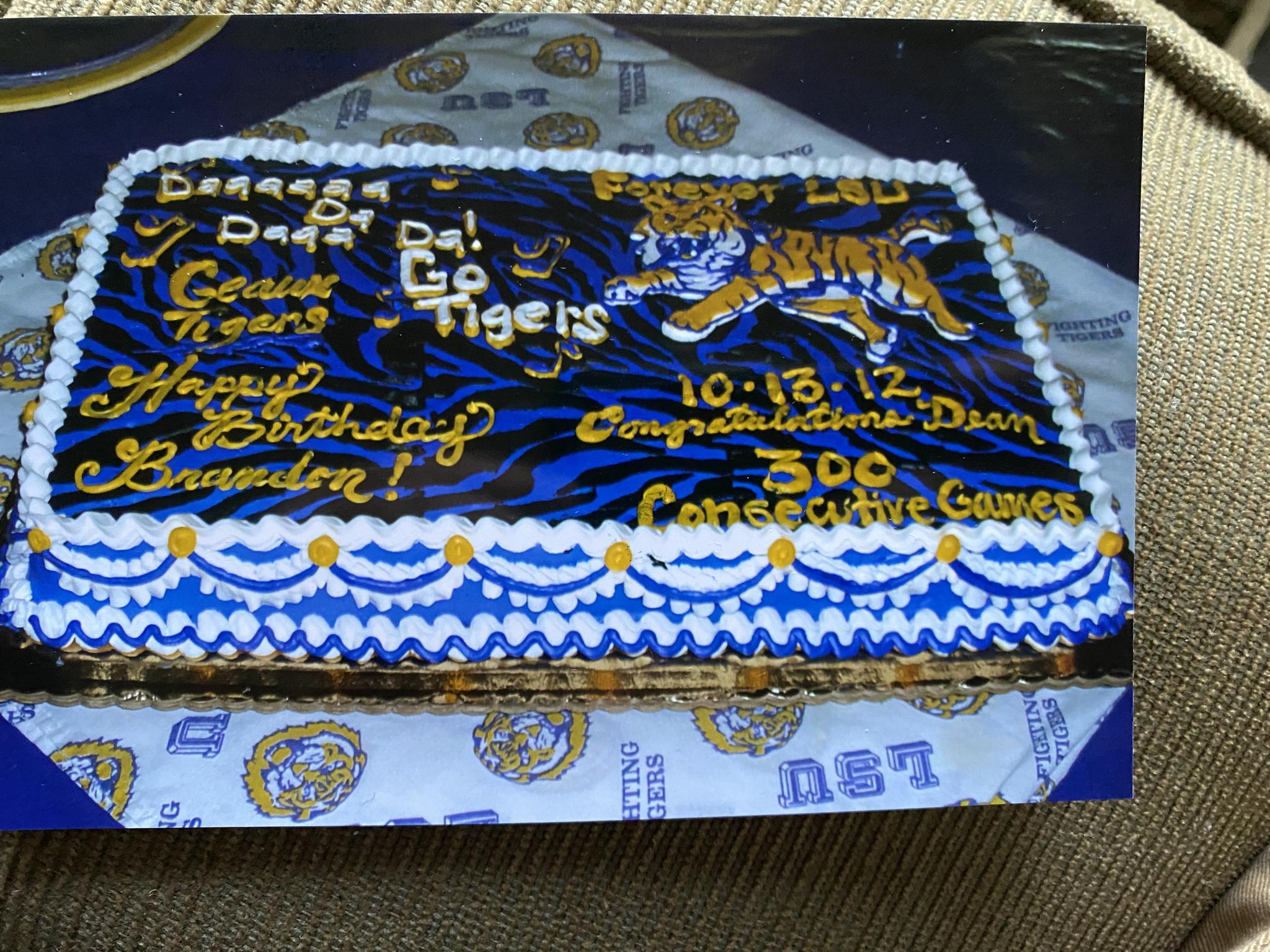 Although, the true love of football rooted from Dean's father Wayne Mancuso who was a multi-sport Letterman out of Behrman High School.
Dean said neither of his parents went to college and didn't have a college allegiance. Dean added his father cheered for Tulane because he liked underdogs. When Dean started going to LSU his father purchased season tickets to Tigers games.
"Dean's dad did not go to college," Lois said. "He went to work for the railroad. His dad did play high school football though."
Wayne passed away on Jan. 29, 2019, but his three children still carry on his legacy of watching football.
"Each one of my children went to high school football games," Lois said. "They all love football, it's in their blood."
Lance Mancuso is Dean's younger brother and is currently the head coach of the Jefferson Davis County High School football program. Following the 2021 season, Lance has a 227-83 all-time record along with nine state championships since his career started in 1998.
Lance was named 3A coach of the year on Dec. 8, 2021, after winning the state championship.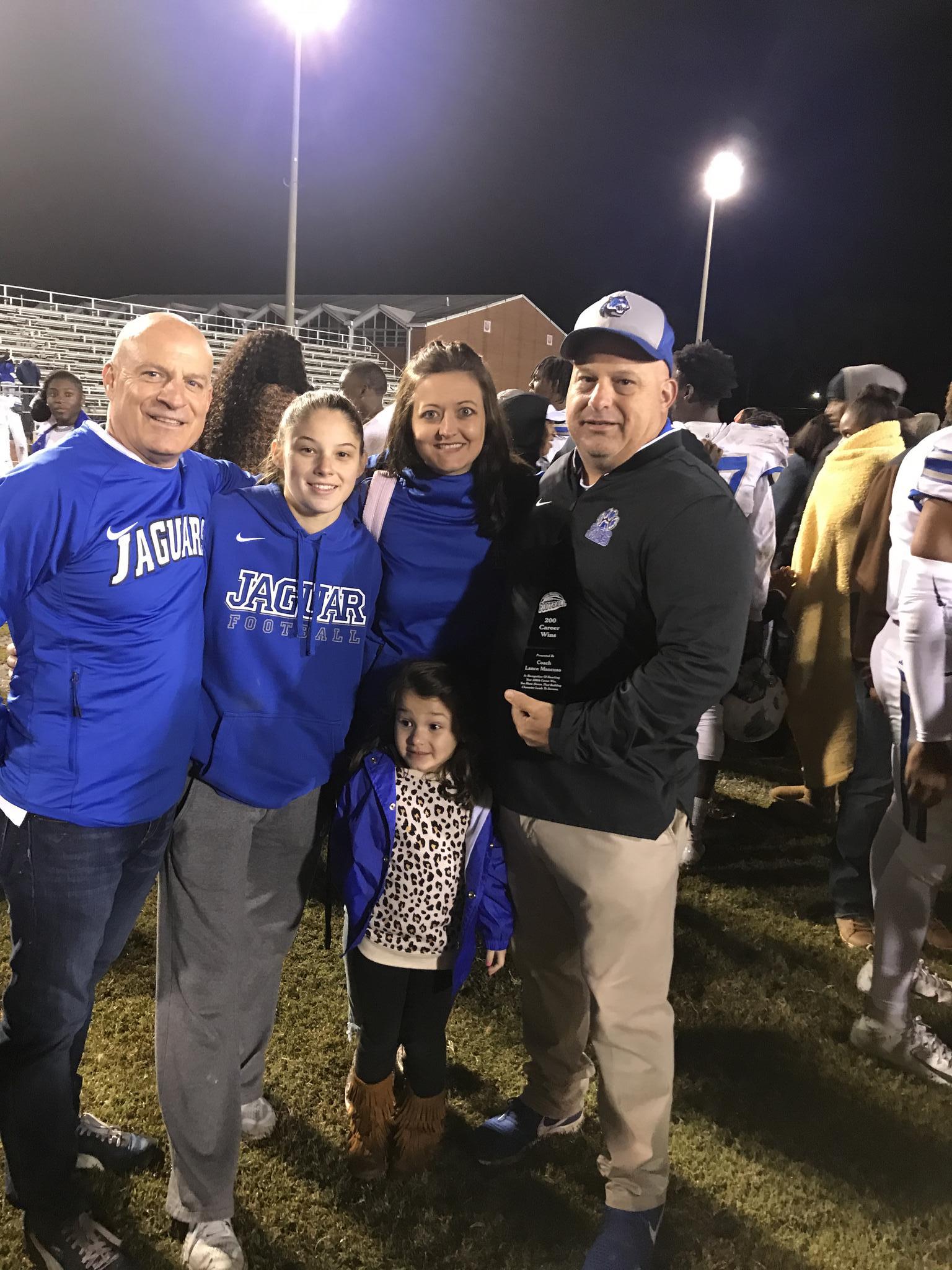 In the past five seasons at Jefferson Davis Lance has won three state championships posting a 50-20 record in that span.
Dean hasn't missed those nine state championship games either.
Even Dean's sister, Brooke Lloyd, was a cheerleader at the University of Southern Mississippi during NFL Hall of Famer Brett Farve's college years.
Today Dean is a Controller of Fabre Auto Group in Baton Rouge & Lafayette and Lois still believes Dean should have pursued a career in sports.
"I think he should have gone into something with sports administration, but he didn't do that," Lois said.
Dean's time as an LSU student came to an end in December of 1985 with a bachelors in accounting before joining his mother at the same public accounting firm. He managed to drag out his degree into the fall so he could enjoy one more fall in Tiger Stadium as a student.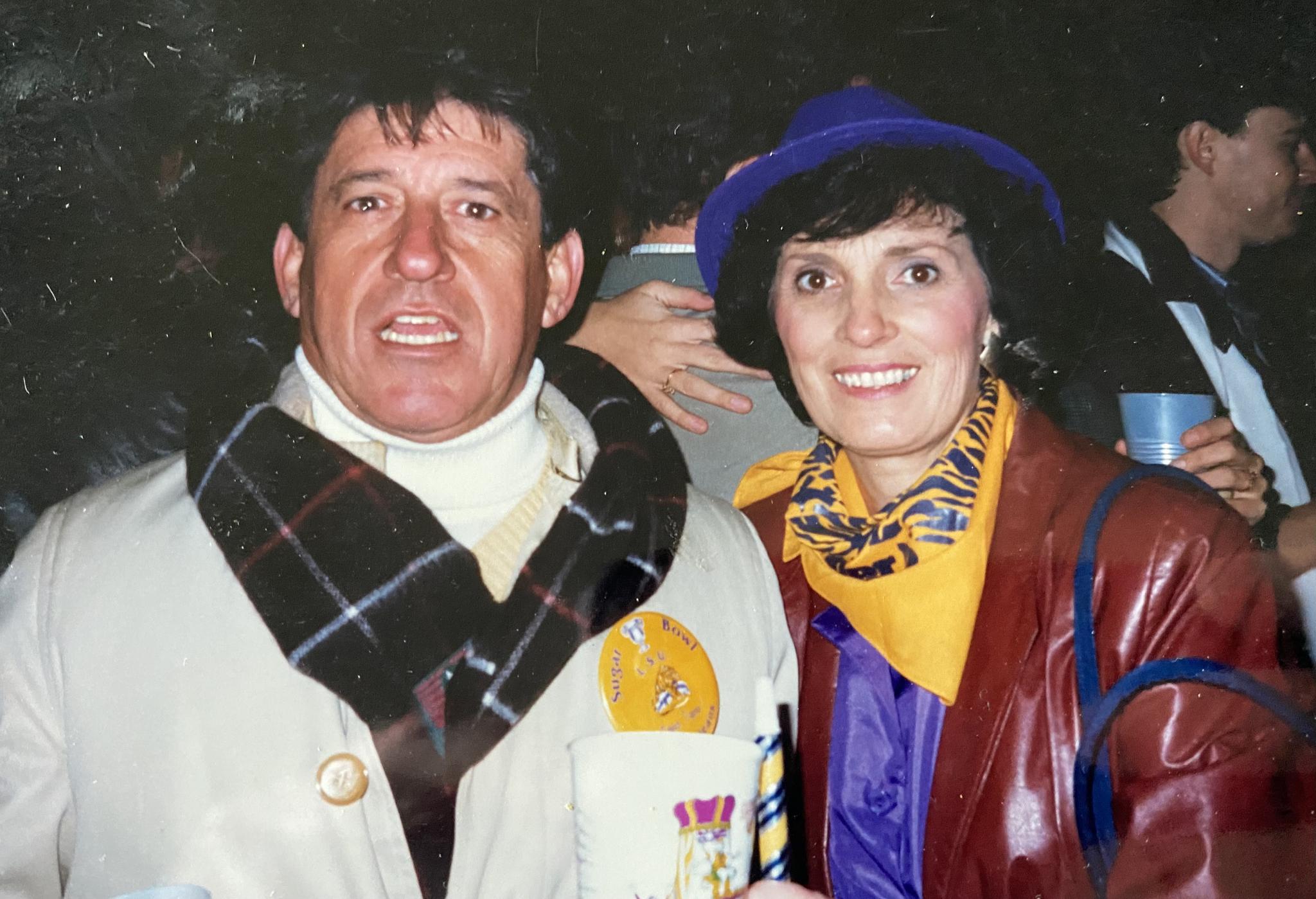 'If there's anybody that you know that exemplifies being a fanatic, it's definitely Dean'
Section 411 row two seat one, that's where the streak lives on for Dean at Tiger Stadium.
He hasn't been alone in the stands along the way though.
Darlene and Dickie Barras have been sitting next to Dean through the winning and losing seasons of LSU football. Darlene said her family has been sitting in the same row as Dean for over 25 years.
"It's his hobby, it's his life. His life is centered around LSU," Darlene said. "LSU is first and everything else is second. That's his priority in his life."
According to Darlene and Dickie, they've seen Dean as the 'most calm and collective cool fan you'll ever meet'. The most you're going to get out of Dean is a high five. He sits there and soaks it all in.
"You'll always get a hug from Dean heading to the seats," Darlene said. "He's just a genuine person that is caring and we've been blessed to get to know Dean."
According to Dean in 2011 his friends and season ticket holders began to inquire about how long it had been since he missed a game. He traced it back to 1988 and said that's when the illustrious streak began.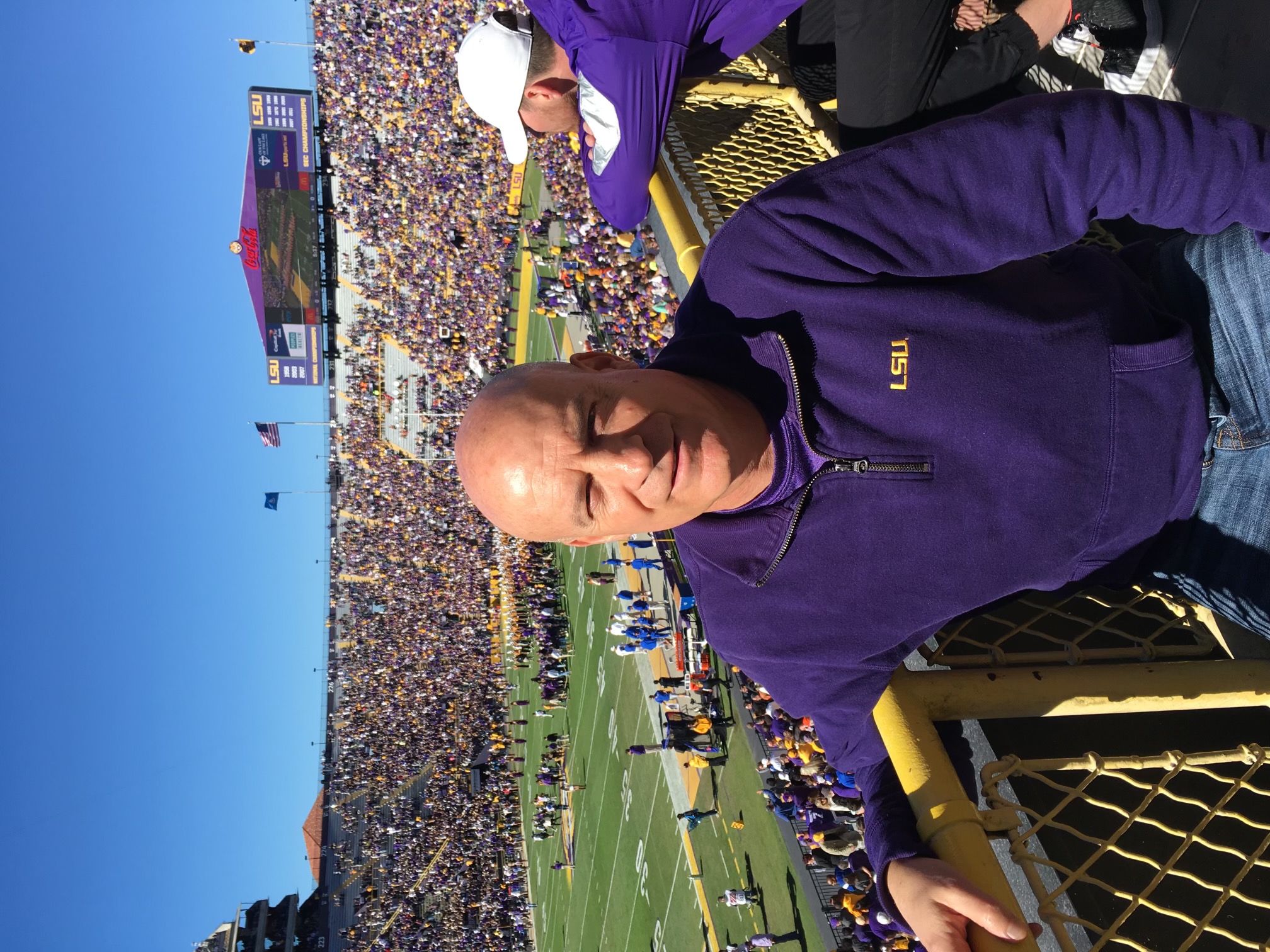 Another piece of Dean's journey was meeting Corey Gautreaux in 2002.
Gautreaux used to be a bartender at Icon in Baton Rouge when he first met Dean.
"I try to share the same passion to an extent as Dean," Gautreaux said. "I actually moved in with him for a little bit after I graduated. It was the perfect roommate situation and we had ESPN on the TV always. We never fought over the remote control that's for sure."
Gautreaux said he was in a bar called Daisy Duke's back in 2005 prior to the opening game in Tempe, Arizona when LSU took down Arizona State 35-31.
"We were in a bar that Saturday before the game and in walked Dean," Gautreaux said.
LSU's game was moved to Tempe due to Hurricane Katrina, yet Dean found a way to still make the season opener on the road.
"I ended up finding a flight and hotels for our home game in far away Tempe," Dean said. "We won the game and the Les Miles era was started."
The streak began & potentially was put on halt
In 1997 LSU was slated to play at Notre Dame on Nov. 15. Dean was anxious to receive tickets this year due to the Tigers having a lottery for the away games that season.
Dean didn't receive a ticket.
"If Dean had to change into a mouse to get into that stadium he would," Lois said.
His next move was to contact his parents who held a separate account.
"When I called them, they told me they didn't receive tickets either," Dean said. "I was still stressing over how I could possibly still make the trip and try to obtain tickets as the season began, but at the first tailgate of the season my mom told the group she had a surprise gift for me."
Lois had intentionally told Dean she didn't get a ticket to the game against the Fighting Irish.
"He had called me and said 'I didn't get a ticket,'" Lois said. "I checked and I did get it. I called him back and said I didn't get one though."
Prior to LSU's home opener against UTEP on Sept. 6, 1997, Dean was handed an envelope at the first tailgate.
"When I opened it, it was LSU-Notre Dame tickets," Dean said. "They had actually won the lottery and received tickets."
The following week Dean traveled to Starkville, Mississippi for the second game of the season against Mississippi State and experienced a panic attack.
Kevin Haaga, a friend of Dean since 1985, said Dean started to panic and freak out in the first half since LSU wasn't doing so well. At halftime, Lois came to tell Haaga that Dean was in First Aid.
"At the beginning of the fourth quarter me and my friend saw an ambulance backing up to the corner of the stadium," Haaga said. "His mom said they were taking Dean to the hospital."
Dean was treated at the hospital and was given a pill to take.
Haaga said since Dean was being treated under the LSU section and could hear the cheering each time the Tigers were scoring. Except Dean was under the impression Mississippi State was scoring and not LSU.
Then 10 years prior to the surprise lottery tickets Dean uncharacteristically missed a game.
On the final day of 1987, the LSU Tigers played against the South Carolina Gamecocks in the Gator Bowl. Dean was still at the same public accounting firm as his mother and the immediate supervisor had scheduled him to work on the same day as the bowl game.
"At first I thought it was a joke, but when I realized it was just the real world, I was devastated," Dean said. "I didn't have the guts to quit on my mom's firm, so I sucked it up, did the inventories, and immediately began looking to get out of public accounting."
LSU went on to win 30-13 in the 1987 Gator Bowl without Dean.
Battling through adversity
Throughout Dean's streak, he's committed countless hours flying and driving across the country. He's had to book hotel rooms and pay for meals on the road.
"I don't know how he's done it but, you know, obviously all of the money and the hotel rooms," Gautreaux said. "You know you're traveling all this way and you go to Gainesville and stay in a Holiday Inn and that's $300 a night as opposed to a $79 hotel room when Florida Isn't playing."
Dean has gone through eight losing seasons as a fan since 1987. No matter what he's still on the road to Auburn or Alabama to see the Tigers play.
"No matter how bad the season is, it does not matter to him at all," Darlene said. "Dean is always a fan. Win or lose he is always a fan of LSU."
Even in 1992 when LSU was 2-8 before the season finale at Arkansas Dean still went to the game. He was sitting at his parent's house in Picayune on Thanksgiving contemplating if he should make the 10 hour commute to Fayetteville, Arkansas.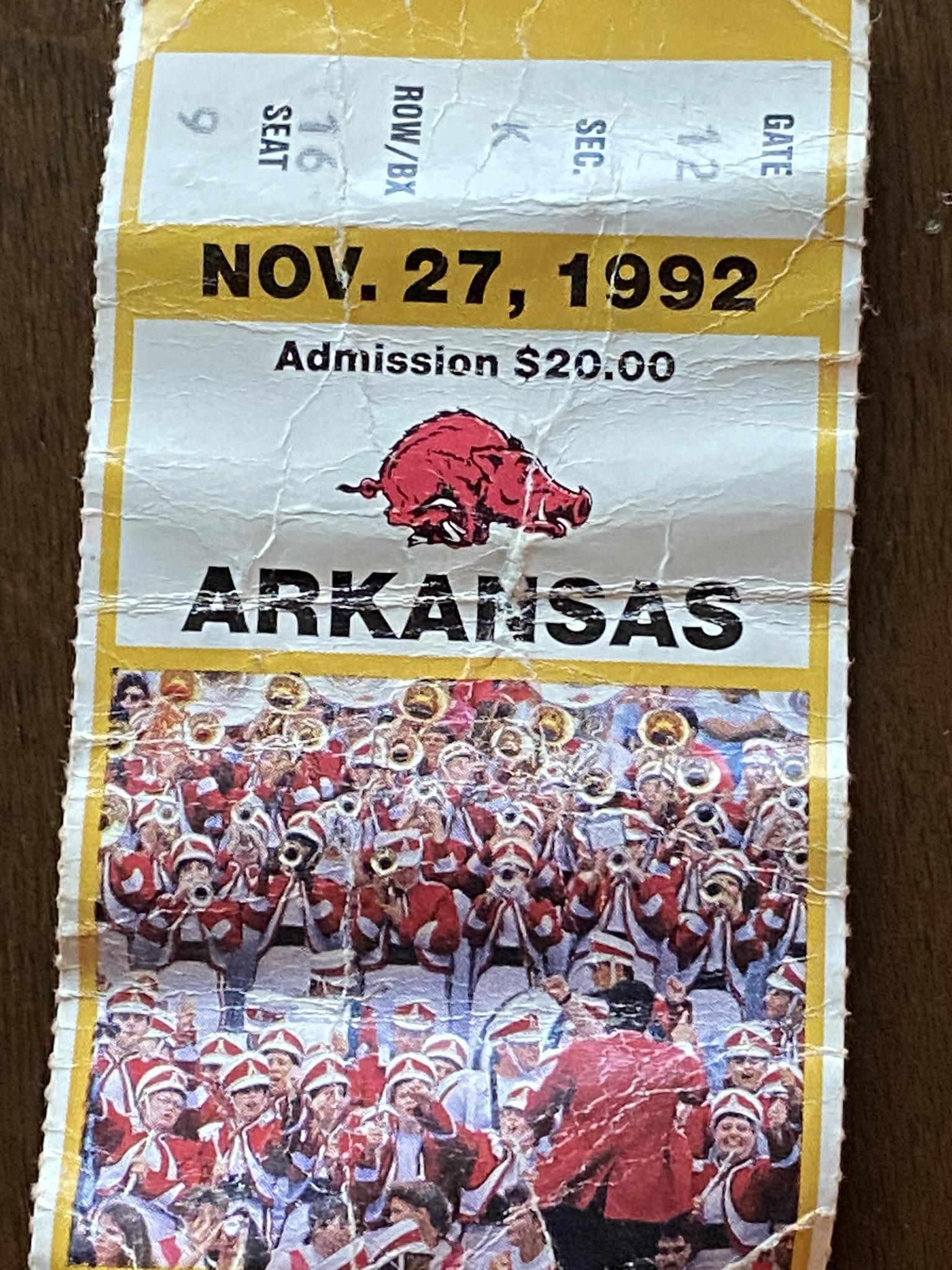 "We were so bad I couldn't find a soul who wanted to join me," Dean said. "The forecast was for temps in the 30s with drizzle."
Lois asked Dean if the Tigers had been 8-2 and not 2-8 would he even be thinking about not going.
"I responded of course not," Dean said. "I was off on my 10 hour drive in the morning to see us lose 30-6 in the freezing rain sitting behind Tusk the live hog."
Following four Southeastern Conference Championships and six divisional championships Dean experienced some more personal strife.
Dean experienced a heart attack in the summer of 2014 and had to have a triple bypass procedure.
"I rehabbed nicely and was in Houston, Texas for the season opener on Aug. 30th, 2014," Dean said.
Haaga said he thought the heart issue rooted from going to LSU's games.
"He still managed to push forward and do what he needed to do," Haaga said. "He didn't let it stop him."
Then in 2019, the next medical issue came up for Dean. His streak stood at 382 games heading into the fall.
On Aug. 1, 2019, Dean was diagnosed with prostate cancer. But fought the disease to continue to see the beloved LSU Tigers compete on the gridiron.
"Under the direction of my oncologist we worked out my hormone treatments, 25 external radiation treatments, and internal radiation seed implant surgery around home and away football games," Dean said.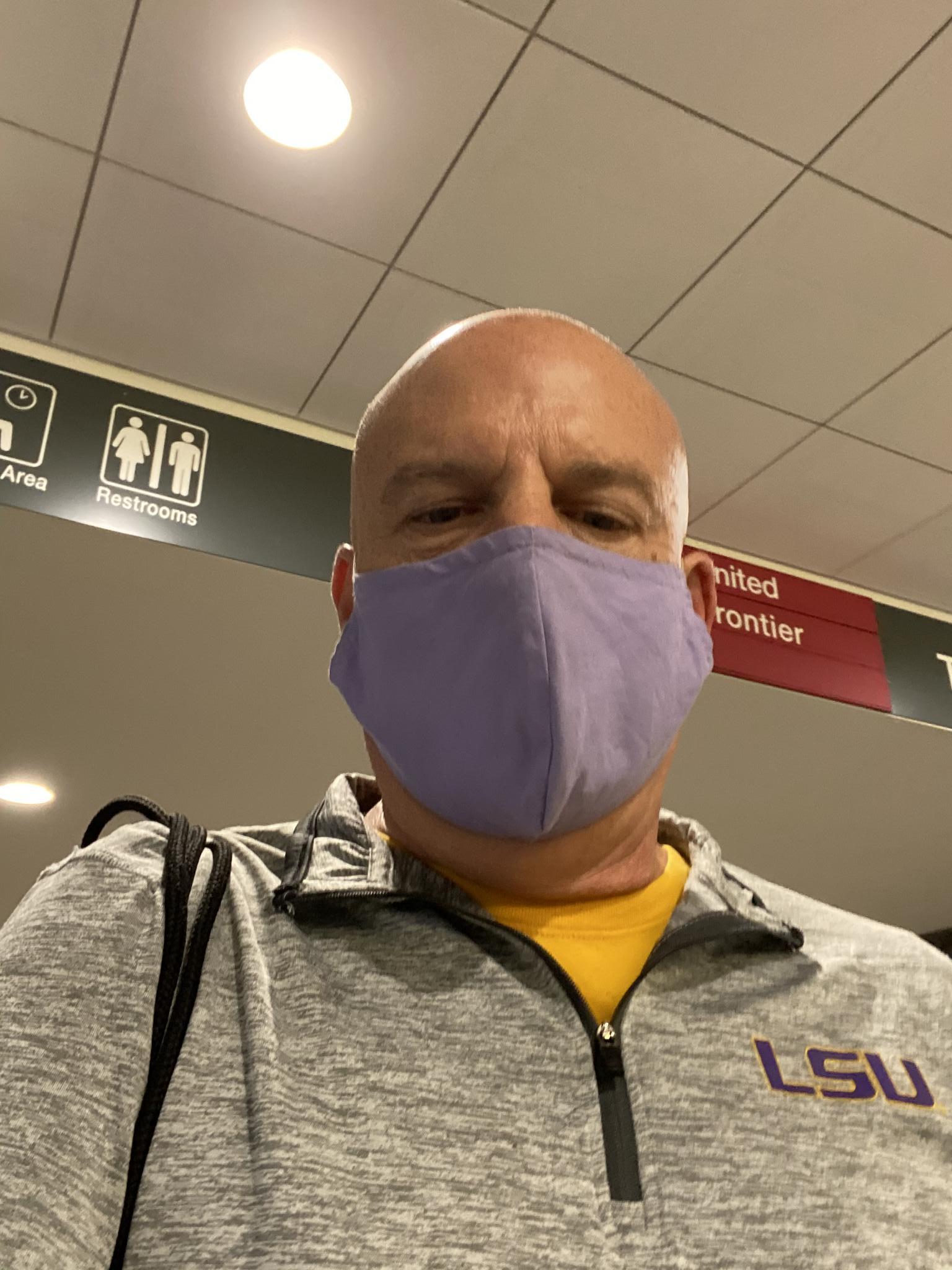 'He's a creature of habit'
There's 14 different places to witness an SEC game and Dean has been to them all. Throughout the trips, he's traditionally gone to the same restaurants and bars when in the visiting teams city limits.
"He really likes it, it's just a little weekend getaway for him to go and cheer on LSU," Gautreaux said.
Despite going to Auburn for a road game every other season Gautreaux feels like it can be a chore to do so.
Not for Dean, he's doing the same things in each respective city he visits.
"He's definitely a creature of habit," Gautreaux said. "Typically, he'll eat at the same spot so you know, Mississippi State he's going to Little Dooeys for barbecue before the game. He has all these little rituals that he does and every little city you know. Every little SEC city that we go to, but it's been fun."
At the game, Dean is also the same person when cheering for his alma mater.
"He sits the same way all the time in his seat," Darlene said. "He's on the edge of that seat on the end of the row."
Gautreaux said Dean is not fussing; he's not cussing. Dean is just clapping and I'm the one screaming and hollering and yelling at every official and everything they do.
"He'll look at you and is chewing gum," Gautreaux said. "He'll wipe that sweat from his brow because he knows that was fun. I do think he'd be a great coach because he's on to the next one."
On the way home he's listening to the sports radio and he wants to hear what there is to know about next week and he's planning out his next journey.
However, Dean is not one to flaunt his game streak to anyone.
"He's not one to talk about it," Gautreaux said. "He's not one to sit there and tell anybody that they need to know he's the biggest fan."
LSU played 13 games in 2021 and Dean improved his streak to 420 consecutive games attended.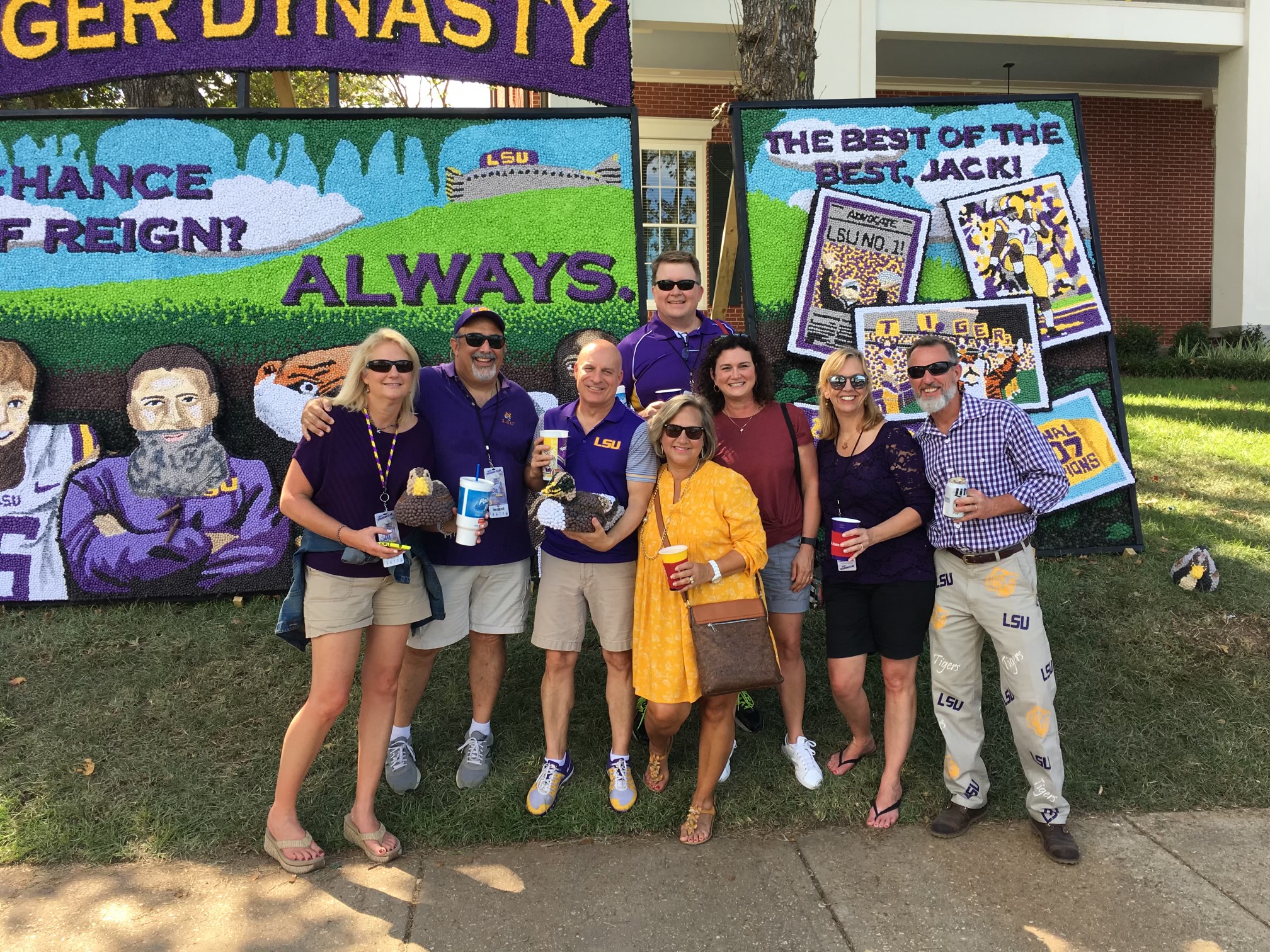 "It's an insatiable desire to continue the streak," Haaga said. "I don't know if it's so much the streak as it is the fact he really loves LSU. I think that the streak is just a byproduct of that."
LSU has played 1,297 football games. Dean has been to 32% of all LSU games played all-time.
"That stat blows me away," Haaga said. "I mean it takes special dedication, especially during the Curley Hallman years. It's like another full-time job that he really enjoys."
Giles Pellerin was a renowned fan of USC football and attended games for 72 years dating from 1926-1998. Pellerin died at the age of 92 in the parking lot of the Rose Bowl due to a heart attack. His streak ended at 797 games.
"He's just got the blood for sports," Lois said. "I don't know where it comes from but he's just been contagious to it. I'm at a loss for words as to how to put it, to be honest."
LSU went 6-7 in 2021 with a midseason coaching change. On Sunday evening Oct. 17, 2021, Ed Orgeron and LSU reached a separation agreement. LSU was 4-3 when the arrangement was made to move on from the bayou native. 
The Tigers named Brian Kelly as its newest head football coach on Dec. 1, 2021. Kelly was previously Notre Dame's coach for 12 years posting a 113-40 record while going 5-5 in bowl games. 
Dean's streak can stay alive this fall as the 2022 season approaches.