Jayden Hanna: The Sparkplug of Cumberland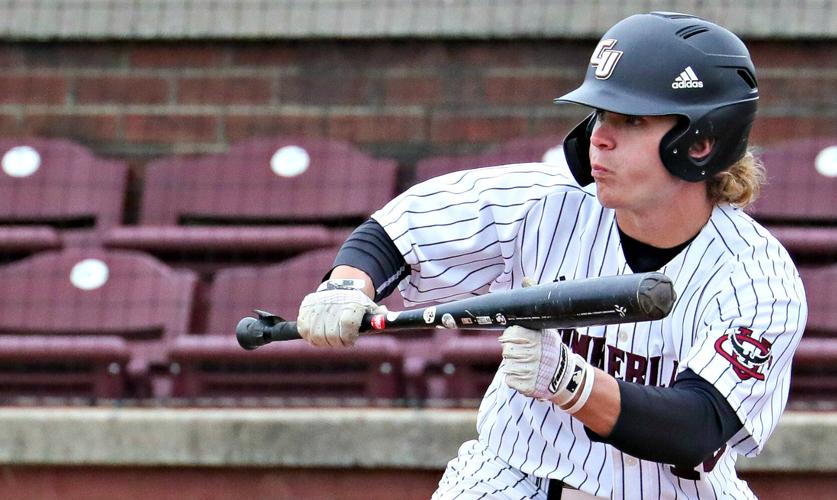 Former Cumberland University infielder Jayden Hanna has taken his hustling, breakneck approach to baseball closer to his Beaverton, OR home.
A one-year wonder at CU where as a graduate transfer he hit .339 with 11 homers and 17 doubles -- leading the club with 69 runs in 50 games, Hanna has latched on with the independent Missoula (MT) PaddleHeads.
The PaddleHeads, a reference to male moose of the Northwest, play in the professional Northern Division of the Pioneer League, which is not affiliated with Major League Baseball but is an MLB Partner League.

"I wanted to pursue some kind of pro ball and see if I could actually get a contract," Hanna said. "I was looking at some salary jobs after the season ended at Cumberland.
"But I wasn't ready for baseball to be over, so I'm going to keep playing as long as someone will let me. "It's everything I have dreamed of and more. There's insane talent. Some guys have been drafted before, but a lot of them have just played high-level baseball. "At this level, I really have to step up, work extra hard to try to keep up with them.
"The coaches were working with me as soon as I got here and talked to me about the mindset at this level."
One of those coaches. Jeff Lyle the hitting coach for the PaddleHeads, was Jayden's coach when he played summer ball in 2016 for the Medford Rogues in the Great West League.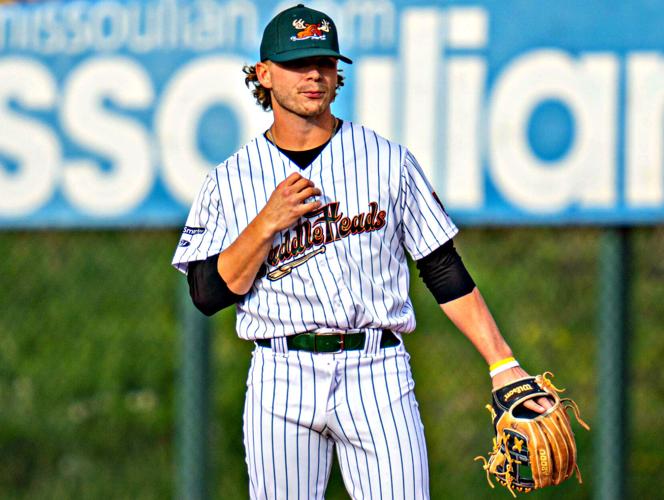 During his brief stay in Lebanon Hanna managed to work on his Master's in Business Administration after graduating from Western Oregon University.
"After last year I was graduating and knew I had an extra year to play," Jayden said. "I really wanted to use the year and not have second thoughts about not playing."
He infected the Phoenix with his no holds barred approach to the game, diving for grounders, sprinting on and off the field between innings and to first after drawing a base on balls.
CU coach Ryan Hunt described his second baseman as a 'live wire. A hard-nosed guy that gets after it.'
Hunt told Jayden in the fall that he's his type of player and has fun playing the game.
"The way I would describe him is a table-setter," Hunt said. "He was our sparkplug that got us going. He's not an overpowering figure, he's not a home run hitter. He got on base and creates havoc and he had some big hits for us."
Hanna was voted second team All Mid-South Conference for his efforts in 2022.
"I struggled at the early part of the season," Hanna said.
"I was taken out of the starting lineup early and knew I had to win that back. I got more opportunities and Coach Hunt saw something in me and so then I was back doing my job."
"I appreciate Jayden and his work ethic and his attitude and the way he plays the game," Coach Hunt said.
"He's Cumberland baseball through and through. For him to come in here and buy into what we want spoke volumes to him and the kind of attitude he has," Hunt said.
"He wasn't here long but he has a love for this program that is hard to grasp. He played hard and ran every ball out," Hunt said.
"He plays with everything he has on every pitch and that's what I want out of our players, and when you have a guy like that every single day it would be easy for a coach to pick a guy like him to be our captain."
Still on the move: Moving around is nothing new for the infielder.
Before landing at Western Oregon, he played two years at Lane Community College in Eugene, Oregon.
After starting two seasons with Lane, he was recruited by Western Oregon's head coach Kellen Walker, a program eyeing Jayden since his prep days at Westview High School.
"A little bit of a different style of baseball," Jayden said of Western Oregon.
"Coach [Walker] was very hard-nosed which was amazing and very mentally tough. All he cared about was guys playing hard."
The first time Walker saw Hanna play was as a junior in high school. He kept in touch with the infielder as he went to play with Lane.
However, when Jayden arrived at Western Oregon he didn't get to play right out of the gate.
"I came in and was hoping to come into a university to make a big impact my first year," Jayden said. "At the last minute we got a Gonzaga graduate transfer, a second baseman."
Hanna opted to redshirt, a decision that wound up allowing him to play at Cumberland as a graduate transfer.
"I ended up getting in better shape. I dropped 20 pounds and I was still able to dress for games and go through pregame, which no other redshirt did, and It took away so much stress for me."
One of Hanna's main pillars for being as passionate as he is about baseball is to make his late mother proud.
Raelyn Hanna died of colon cancer in 2010 when Jayden was 12-years-old.
"She was my biggest supporter. She didn't miss a single game, even when the chemo got bad. She was on a scooter at my games," Jayden said.
Before Raelyn passed away she and Jayden made a promise. Jayden was to play baseball for as long as he could.
"That's the main reason I play so hard is because I know she's watching," Jayden said.
Michael Hanna is Jayden's dad and he's been by his son's side since his career started. He's also been supportive of his decision to keep playing baseball.
"He loves his mom a lot," Michael said. "If you watch him hit a home run he touches his chest, kisses his lips, and points up and that's a tribute to her. He's always done that ever since she passed away."
Michael went on to marry Lisa Thomas in 2014. The two knew each other from high school and had been married prior to their relationship.
"Jayden was so much fun to have in the house since a lot of baseball boys came over," Lisa said. "By the time we were married there were five kids still living at home, our kids instantly bonded and loved each other."
Right from the start, Lisa went with Michael to Jayden's baseball games seeing him make it all the way to playing for Cumberland.
Lisa, like Michael, knew where Jayden was his best on the field.
"When we saw him get put in the leadoff spot we knew that was his spot," Lisa said. "If he can hit in that spot he can definitely pull the team up to a different level, and he gets it rolling."
Lisa also has seen how her stepson takes the time to visit with younger baseball players.
While Jayden played at Westview, he always took the extra time aside to visit with little leaguers who came to watch.
"Young guys would show up to the high school games wearing his number," Lisa said. "He loved to encourage them and was the one who would stay and talk to the other guys. He's an inspiring player."
Jayden has a soft spot for Lisa's daughter, Audra, who has disabilities. He's become a sidekick of hers and takes the time to introduce his teammates to her and walk around the ballpark.
"The first thing he did at the Cajun Collision in Shreveport was take her around and introduce her to all of his teammates," Lisa said. "He has a very big and kind heart, I think that rubs off on people."
Jayden's demeanor is a formidable part of who he is too. When he began to play club baseball one of the traits he picked up was running to first base.
At Jayden's first at-bat of playing U14 he jogged to first.
His coach Greg Cero let him hear it about putting in part effort and sat Jayden the rest of the game. Since then he's been going at 150% in everything he does on the field.
"His coach was great and saw something in Jayden and really helped him become an all-around player," Michael said.
Michael knew from when Jayden played Little League that his son would make the most out of playing baseball. He pushed himself from an early age, playing against older players, and earning the nickname Mouse while Michael is known as Poppa Mouse.
"He's always played against older players," Michael said. "At seven he played against nine and 10-year-olds and when he hit nine he would play against kids 11 to sometimes 14-year-olds and was always one of the best players. He just had a knack for it from the beginning."
Something coaches would tell Michael was that Jayden was a player they could build a team around. His attitude and desire were so infectious in the eyes of his teammates and coaches.
Throughout his career, it's always been about the love of the game and where it's taken Jayden.
There wasn't a whole lot of waiting for him to know where he would be playing his final season. Lane Community College head coach Josh Blunt asked Jayden about his final season of eligibility and once he hung up he called Cumberland assistant coach Brett Neffendorf.
"The next day coach [Neffendorf] called me," Jayden said. "Neff had heard about me from my junior college coach, it was crazy and I'm very grateful for coach Blunt."
Neffendorf is good friends with Blunt and he got word Jayden was looking for a place to go after the 2021 season wrapped up.
"He's one of the hardest workers," Neffendorf said. "When you mix the characteristics of his work ethic on and off the field, and he gets along with everyone to get to know them on a personal level, that's the first thing I noticed."
Except there was a chance no one at Cumberland would have been able to see Jayden for who he is both as a player and a personality on campus.
"I'm really happy I did move because I almost didn't," Jayden said of moving to Lebanon. "I was in Kansas for summer ball and we got knocked out of the postseason pretty early, way earlier than we thought we were."
Jayden was playing for the Newton Rebels in the Sunflower Collegiate League last summer and committed to Cumberland back on June 1, 2021.
He was sitting at his host family's house in late July but thought he should've been playing with two weeks left before his move to Cumberland.
His two roommates left and he sat there alone thinking of what was next. Jayden's friends and family were all the way back in Oregon and pondered if moving to Tennessee was right after all.
"I didn't know a single person where I was going," Jayden said. "I called my dad and I was panicking. He told me he had an experience like that. He told me to think about it for a few days and said whatever I end up doing he'd support me."
After the phone call, Jayden knew he couldn't sit thinking for two weeks reflecting on if he should go to Tennessee.
"If I'm going to go then I need to go," Jayden said. "I packed up all of my stuff within the hour put it in my car and left. I called my dad two hours down the road and said I was on my way now. Coming here has been the decision of my life for my baseball career."
Now Jayden doesn't want to leave Tennessee after developing friendships and becoming a member of a close-knit Phoenix baseball program.
"The friends I have made on the team are special people and it's a big reason why I want to stay," Jayden said. "There's so much here to experience, there are so many people that I enjoy and I don't want to leave yet."
During Hunt's first season as the skipper for the Phoenix, he's been glad to have Jayden.
"For him to come in here and buy into what we want it speaks volumes to him and the kind of attitude he has," Hunt said. "He hasn't been here long but he has a love for this program that is hard to grasp."
Jayden keeps the team loose and keeps his personality on his sleeve, always has the desire to win with nothing to lose.
"He plays hard and runs every ball out," Hunt said. "He plays with everything he has on every pitch and that's what I want out of our players, and when you have a guy like that every single day it would be easy for a coach to pick a guy like him to be our captain."
Jayden has tapped into his new home and one of his favorite memories was when Cumberland swept Campbellsville and coach Hunt came over to the team after the series ended.
"At the end of his speech he said 'Cumberland is back baby' and everyone just erupted,'" Jayden said. "At that moment I felt something that I hadn't felt before, it was just special."
Jayden also had a walk-off back on March 1 to take down Milligan 8-7, his first game-winning hit as a member of the Phoenix.
"I looked over at the dugout and they're over there smiling and joking with me and one of my teammates was saying to do it for my roommate Titus," Jayden said. "I was relaxed the whole time and had faith in myself and I knew my team had faith in me."
The hard-nosed gritty second baseman Jayden Hanna was just what Cumberland has needed this season.
"I appreciate Jayden and his work ethic and his attitude and the way he plays the game, he's Cumberland baseball through and through," Hunt said.