Postman Profile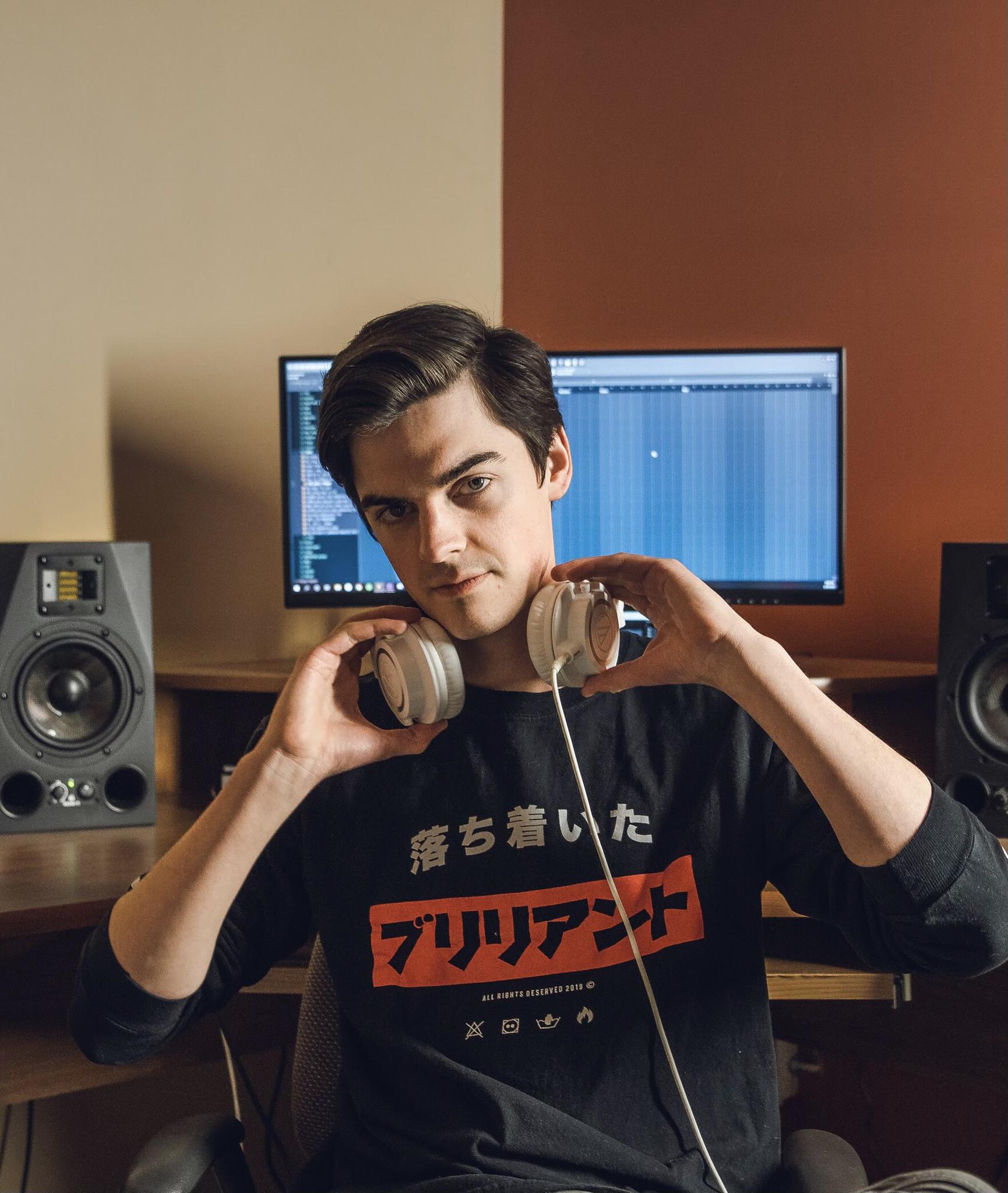 Asher Postman sat in his bedroom studio during a Zoom interview.
His AKG c414 studio microphone provided, crystal clear audio quality, and soundproofed walls appeared behind his left shoulder.
Dark brown wavy hair flowed atop from Asher's head and stopped at his neckline. Light stubble was apparent on his upper lip and chin, and then his silvery voice came over the microphone
Asher, 23, and raised on the outskirts of Grand Rapids, Michigan, is pursuing his passion for music as a freelance producer in electronic dance and pop music.
He moved to Nashville, Tennessee, in October 2019, to continue his professional career.
"I knew that I would value being able to write with people in person and meet new people, to advance my career a lot more," Asher said. "And so that's the point where I was like, I think it'd be a really good thing for my career to move to Nashville because obviously it's Music City and there's people all over doing it."
Before the move, Asher picked up traction on his YouTube channel "Asher Postman Music" which got him signed by Armada Music, a Dutch independent record label that specializes in electronic music. The name Armada comes from the first two letters of the founders' first names: Armin van Buuren, Maykel Piron and David Lewis.
Asher's arsenal of videos includes a remix of "the yodeling kid," Mason Ramsey, an American singer and voice actor, who gained internet fame from a viral video of him yodeling Hank Williams' "Lovesick Blues" at a Walmart back in 2018. That performance got Ramsey 23 million views.
"There was so much I didn't know about the music industry because the music industry is actually really complicated when you start off being an artist," Asher said. "All you care about is just making music but there's a whole other side that's like really hard to navigate."
However, navigating childhood came first.
Asher recalls creating the song "Techno K" in his family's farmhouse in Lake Odessa, Michigan. He made it on his keyboard when he was 15 and thought it was the most amazing thing even though he admits having no sense of music production.
"Well, some of my favorite memories are just doing my own thing in the house and hearing the parts of his music that he's working on in the basement," Asher's mother Mina said. "I was wondering how in the world somebody could hear the same thing over and over and not get sick of it."
The Postman's found their 25-acre farm in Lake Odessa during 2012. In a town of roughly 2,000 people, Asher and his family settled in their 2-story home with three bedrooms.
"Kind of a cheap old farmhouse if you want to know," Asher said. "Cheap rustic. Not really in a nice way. A lot of add-ons. The basement was just a cement floor, and I put up drywall myself and painted it. My dad found some leftover trim pieces from his work, and I put it up in the room."
The farmhouse also served as a holistic style school to Asher and his siblings Judah, Justice, and Meeka. Mina was their teacher all the way up to high school, along with farming.
"I loved having little kids, and we decided to homeschool because we valued education, and the private schools in our area were super expensive, and we did not have a very big income," Mina said.
The original plan was to homeschool the kids until high school age. However, since homeschooling was widespread in the Lake Odessa community that didn't happen.
"Every day the kids would get up, and they would do chores," Mina said. "We'd have breakfast together. And then usually the older kids kind of could go self-paced with what they knew. We did a lot of reading books out loud when they were younger. We did lots of nature walks, and then I had them draw pictures of what they saw."
When Asher wasn't doing schoolwork or shutting himself down in the basement making music, he practiced hockey, among other extracurriculars with his siblings.
"I was on the JV (hockey team) at that time with my brothers, and we would set up like a net in the yard and then have some plexiglass and just shoot pucks," Asher said. "And like we had all the room in the world to do that. We would ride on a tractor mower around the yard. We would play airsoft wars in the barn, and we made up this game called 'Batman' that we could play as well at night."
Mina said that growing up the four children did not have many paid music lessons. Most of what the Postman children practiced was self-directed.
"So the fact that Asher had the courage, and the confidence to shoot for the stars, so to speak, was a cool aspect of it because none of the other kids really wanted that particular thing," Mina said.
Asher attributes his inspiration to most of his music to the invaluable experience he had at the farm and just his overall life. From being in the choir at church and blazing the trails on the surrounding woods Asher has honed in on his past memories when practicing his craft.
Once he left the rural area of Lake Odessa Asher was eager for his opportunities beyond the Great Lake State, yet he wasn't the only one ambitious in his inner circle.
The initial four years of Asher's career were penniless. Asher worked with his father Shane painting homes to pay the bills. But producing remixes and posting them to YouTube allowed the mix engineer to get creative.
However, Asher admitted he had some trials before the rubber hit the road.
"When I graduated high school I felt the pressure from adults to go to college," Asher said. "In the back of my mind, I knew that there were so many people that looked at me as the kid who didn't go to college. I wanted to prove those people wrong."
Then the lightbulb flipped on when he heard a DJ Snake song called "The Middle."
At the 1:05 minute mark of DJ Snake's song, Asher added his own twist to the song.
"I had this idea where I would go to YouTube, find a clip of a peacock making that sound, recreate the track, and then use the peacock as the sound and the chorus," Asher said. "And so I made a video about that and it got a million views on Facebook, in the first week."
Although, Asher did have uncertainty prior to the bulb flickering on.
"There was a two year period after I graduated high school where I was making music faithfully and consistently and being really excited about it," Asher said.
"No one was listening to it. I was posting it on SoundCloud, and posting on Facebook. And it would get like 20 plays max. And it was something that I would spend hours and hours on. And it honestly made me a little bit depressed during that season."
Asher was proving to himself that he was resilient enough to make a breakthrough and he eventually did.
"That ended when I put out that viral video," Asher said. "I was reinspired. I knew it could work. Like finally someone is actually seeing my music and is not getting 20 plays from the family friends every time."
Except no matter what Asher's family always stood behind him.
"When I showed my older brother Justice my first song he was mind blown like it was the coolest thing ever," Asher said. "He was the first one that showed me what a remix competition was and sent me a link."
Aside from Mina backing her son, it's been Asher's father Shane who was reassuring him to pursue his passion.
"He's actually the most encouraging man that I know honestly," Asher said. "For all of us kids, he's always encouraged us, and celebrated our successes, and didn't give us the pressure of if we were not good enough or anything like that."
As of Feb. 15, 2021, the producer has 71,201 listeners, according to his Spotify homepage, with 852,150 streams on his top song "Say" which was released on July 12, 2019.
Instead of painting, Asher makes advertisement music for Junto Sounds based in New York City, which provides and kept him afloat.
And he had an additional life preserver.
A native of Pinetop, Arizona, Annelisa Franklin, helped nudge Asher toward Nashville. Annelisa, 21, moved to Tennessee at 19.
"It was just a friend of mine who I knew was looking, and I thought they would be good roommates," Annelisa said. "So it was really fun to see him get here and start to make his own friends and his little group of people that he really clicks with. It made me really happy to see him thriving out here really quickly. He, just like hit the ground running, which made me so happy. But it didn't take too much convincing to get him out here."
Asher went from meeting Annelisa virtually through direct messaging her tracks of songs to joining her in Nashville.
"I knew immediately that he was naturally incredibly talented, I could just tell from the track that he sent me," Annelisa said. "It was one of those that I didn't really have to think about. I just heard it and knew for some reason that this guy was supposed to be in my life somehow."
"But I always knew he was just wildly talented, incredibly sweet, super humble, and just like a good fun guy to be around. So all the pieces were there and it was just like a no brainer."
The duo went on to write "Walk Away" in what Asher said was his most fun session and a pretty unforgettable day.
Annelisa was going through a breakup at the time and that was the foundation for the most popular song listed on Asher's Spotify page.
"She was on the floor like she usually is when we write," Asher said. "And I was sitting on my desk, and we're just throwing ideas out. And just having fun, honestly. And the song came out in a couple of hours. And I remember after, I think we went out and got tacos after at a local place in East Nashville at Tacos Aurora."
In the midst of creating Asher's most popular song, some comfort food was needed to balance the workload producing the single.
"It was just one of those moments where you feel really vulnerable because you care so much about someone, and they care about you, but you almost wish they didn't in a way," Annelisa said. "Because it would be easier if they could just disappear in a sense. And "'Walk Away'" was a song about that and really just not being able to escape someone and wishing in a sense that you could."
The lone live appearance Asher and Annelisa had together was in the YouTube Space NYC on April 21, 2019, performing "Say" as an acoustic version.
"I'll admit, I was a little bit nervous about him," Mina said. "Navigating the city, and you know, figuring out just adulting things without having his support group close by, but he really did well. Like Annelisa said, he just made so many friends so quickly, that it was such a relief to know that he had that support there."
Once Asher finished his two-song label deal with Armada, he's had additional time producing advertising music and working on an album.
Asher concealed any additional information about the album other than his plan to release seven singles and then the completed album.
By the time March and April of 2021 rolls around, Asher would like to begin dropping his debut album, the songs are all demos but need the finishing production touches, he said.
"So currently, my goal at peak is to have a very invested fan base and audience that's like, a really good size, not that I don't really want to be like at the top," Asher said. "But I want to have millions of monthly listeners, a couple million maybe."
Annelisa sees herself shooting for making songs that are timeless and enjoyed by her fans.
"I would say first and foremost, I've always been a songwriter," Annelisa said. "And that's always been the most important thing to me and the thing in the forefront of my mind when it comes to music. So being able to give an artist a song or give them a voice or have them say something that they didn't know they necessarily needed to say. But it's put in words that they really appreciate. I think the highest honor in music and being able to do that is really everything I've ever wanted."
No word on if Annelisa will make her album debut with Asher, but that wasn't something ruled out by the young producer.
A career that began in the basement of a farmhouse in northern Michigan could result in Asher being under the lights in front of thousands of people at a headline concert.
"I want to also be producing hit records for other artists," Asher said. "So, the highest I want to shoot in terms of writing songs is probably working with other artists for other artists. But yeah, being able to have my passionate artist career for myself, and to be able to produce songs for other artists."
Recently Postman spent time in St. George, Utah with 18 other music producers in an Airbnb for one week. As a result, he announced via Instagram on Feb. 9 he would drop a new single titled "that's cap". Asher also said he made a vlog of his trip to St. George.